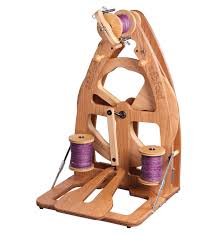 Updated July 31th, 2023
I thought I'd do a post about the tools I use to make things for both myself and the shop. (Product photos are from the manufacturers, as I can't take a good picture of some of these.)
My spinning wheel is an original Ashford Joy single treadle, made sometime before 2002. It's a travel wheel that folds up and weighs about 11 pounds, if I remember correctly.
Instead of the original flyer, I use a Woolee Winder. Its bobbins are much larger than the Joy's, and it takes up the yarn without me having to stop to change hooks. It looks similar to this:
I recently got a book charkha, a type of Indian spinning wheel meant for cotton. It was a gift, and I've loved using it. I'm making my own embroidery thread at the moment.
If you want to know more about charkhas, here's a good article from Spin-Off.
For weaving, I have several looms. Some see more use than others.
For cloth, a 40″ Macomber. It originally came with 4 shafts; I've since upgraded it to 10, and to 14 treadles.
For sampling and for weaving on the go, a Leclerc Voyageur table loom (8 shafts, 9.5″ weaving width). I wouldn't recommend this loom to anyone. It took me almost a year to figure out a comfortable weaving position for it.
And a Schacht Cricket 10″ rigid heddle:
For inkle and card-woven bands, a loom from Windhaven Fiber and Tools. It's called the Harpsichord, and is enormous and can do an 18 foot band.
The difference between the Windhaven pic and my loom is that I had them made left-handed. So much easier to use for me!
My poor, neglected XL tapestry loom from Funum Studio.
I do, however, use my smaller tapestry looms quite a bit. I have the Tiny and Intermediate looms by Hokett, which both look like this (but in different sizes and woods):
Most of my knitting is done with Chiaogoo Twist (bamboo) interchangeable sets. I own both the 4″ and 5″ tips.
That covers all the big stuff. I have a swift and ball winder, a skeinwinder, and a billion knitting notions…