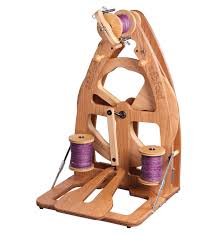 Updated July 17th, 2022
I thought I'd do a post about the tools I use to make things for both myself and the shop. (Product photos are from the manufacturers, as I can't take a good picture of some of these.)
My spinning wheel is an original Ashford Joy single treadle, made sometime before 2002. It's a travel wheel that folds up and weighs about 11 pounds, if I remember correctly.
Instead of the original flyer, I use a Woolee Winder. Its bobbins are much larger than the Joy's, and it takes up the yarn without me having to stop to change hooks. It looks similar to this:
For weaving, I have several looms. Some see more use than others.
For cloth, a 40″ Macomber with 4 shafts:
For sampling and for weaving on the go, a Leclerc Voyageur table loom (8 shafts, 9.5″ weaving width):
And a Schacht Cricket 10″ rigid heddle:
For inkle and card-woven bands, two looms from Windhaven Fiber and Tools: the Mandolin (which is pretty small)…
and the Harpsichord, which is enormous and can do an 18 foot band.
The difference between the Windhaven pics and my looms is that I had them made left-handed. So much easier to use for me!
My poor, neglected XL tapestry loom from Funum Studio.
I do, however, use my smaller tapestry looms quite a bit. I have the Tiny and Intermediate looms by Hokett, which both look like this (but in different sizes and woods):
Most of my knitting is done with Chiaogoo Twist (bamboo) interchangeable sets. I own both the 4″ and 5″ tips.
That covers all the big stuff. I have a swift and ball winder, a skeinwinder, and a billion knitting notions…